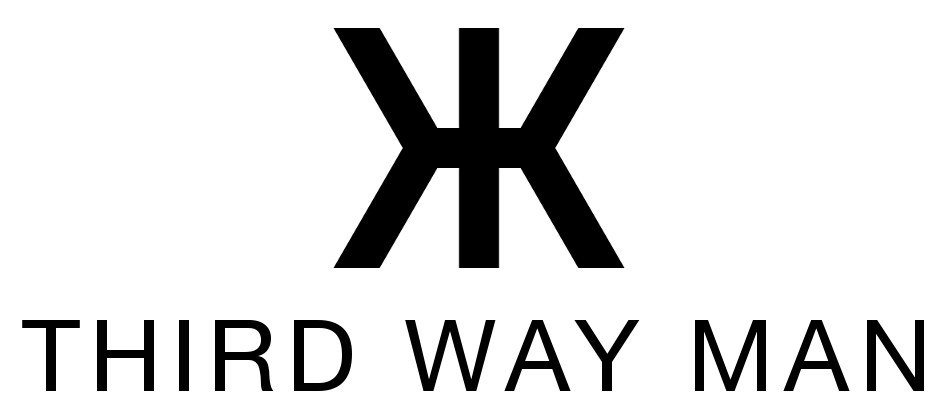 For freedom-loving family men who want to lose weight:
Big Fitness HATES This
Here's the muscle-building, fat-destroying system that's turned 640 ordinary men into warriors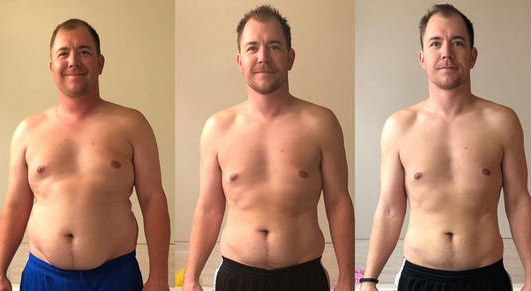 Case Study: Warrior Jesse Cook lost 46 pounds and 10 inches off his waist on his first round of Body Of A Warrior (results vary)


I pinned Cal's legs against the side of the skiff as hard as I could as the huge black wave slammed into us.
Miraculously, it put only a few inches of water in the stern.
We still had time. But not much.
Our bowline had tangled hopeless in the gillnet just minutes before the Northeaster hit.
If we didn't get that line cut by the next wave, we'd swamp.
I cantilevered Clay with a vice grip around his legs while he leaned far over the skiff's edge to reach the tangled line, sawing frantically with his rope knife.
After what felt like an eternity, we cut ourselves free of the net and motored to safety.
This Is What We've Lost
Most men will never know what it's like to depend on another like that...
To overcome danger and difficulty not alone but together, with a band of brothers at your side.
The energy, power, and WILL this kind of brotherhood unlocks in us has no word in the English language.
But after working in secret for three years to harness that power, we've come to call it Tribal Lift.
And when it comes to transforming your body through fitness, it is THE missing piece. Nothing else comes close.
Lone Wolf vs Pride Of Lions
Most men live their entire lives as the lone wolf: alone, exiled, slinking for scraps.
But we were meant to be lions: living and hunting TOGETHER.
If you long to be lean and strong again...
If you've tried to get fit on your own and failed...
If you're ready to call bullshit on fitness-as-usual and try a new, better way...
...then you're exactly where you need to be, because we've spent over 2,000 man hours perfecting the ultimate fitness program for men just like you.
How Tribal Lift Will Set You Free
Big Fitness is a fraud.
Their whole biz model is predicated on you signing up, then forgetting all about it and never showing up to their gym. It's a sham.
Big Food is worse.
They spend billions in R&D concocting ungodly sugar milk concoctions designed to make you addicted so they can sell you product forever.
They're basically crack dealers in suits.
Almost everything you've been taught about health and fitness is a carefully constructed narrative designed to part you with your money.
Once you flush out the lies, things get real clear. To win at the game of fitness, all you need is...
1. A stupid-simple regimen (compound bodyweight exercises done at home + eating delicious, unprocessed foods). This takes care of the "what" part.
2. Tribal Lift (a band of brothers to get fit with, so that fitness is no longer a slog but an adventure). This takes care of the "how," which is the most important part of all.
You won't find a fitness program that meets these two simple criteria anywhere.
Anywhere but here, that is.
BODY OF A WARRIOR Challenge 2.0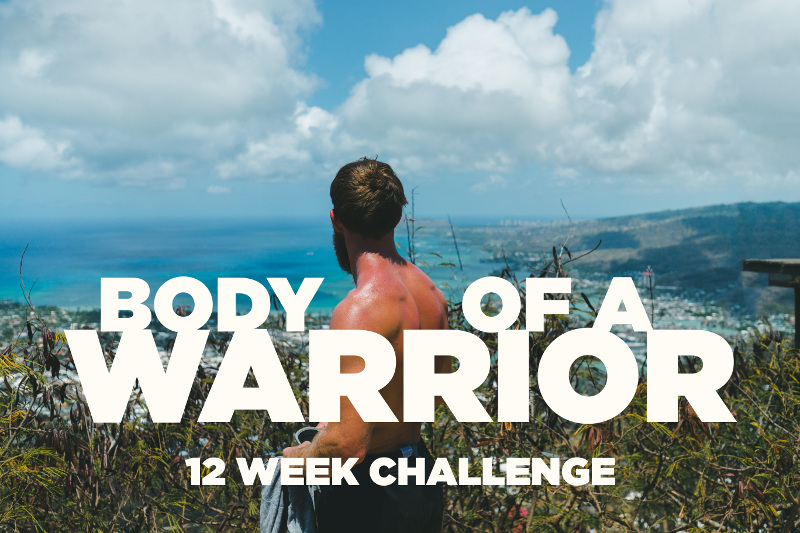 BODY OF A WARRIOR is a full-immersion fitness experience that gets you lean and strong again, at any age, by raising up a TRIBE OF WARRIORS around you. No supplements, no gyms, no BS.
When you join our new and improved BODY OF A WARRIOR challenge, you get...
1. Warrior Workouts
Each week, you'll get 5 bodyweight workouts, carefully configured for maximum fat burning and muscle building in just 20 to 30 minutes a day. That means you get hyper-efficient exercise WITHOUT the injury-risk or time-suck factor of gym-based fitness.
2. Warrior Eating Plan
You'll also get the stupid-simple eating system we've designed to trigger palate reset so you quickly crave only healthy, fat-burning foods. That means you'll eat effective and delicious meals with ZERO calorie-counting, portion-control, or other diet industry BS.
3. Warrior Special Ops
You'll also get three special op challenges each week to choose from. That means you get simple, logistics-free adventures built into your life on a weekly basis, with constant reminders of the limitless application and rewards of being a Warrior.
4. Warrior Coaching
You'll also get world-class instruction and support from coach Steven Ashton every step of the way. That means you have real-time access to one of the fittest men you'll ever meet.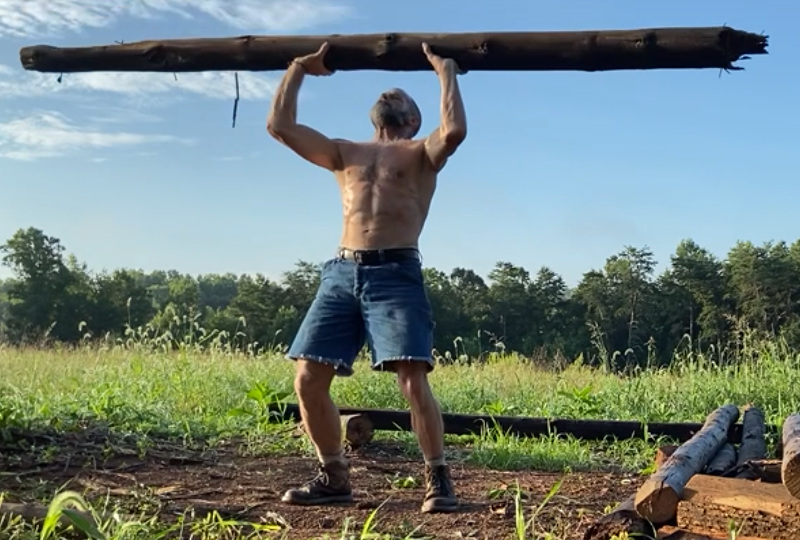 5. Warrior Fire Teams
What ties it all together is the Fire Team: the small group "band of brothers" you'll laugh, sweat, and proof-pic your way to greatness with.
How Would Your Life Change If You Were A Modern-Day Warrior?
Imagine your wife running her hands over your chest and stomach because she "just can't help it."
Imagine your kids asking to see your muscles and yelling with awe and excitement when you obligingly flex.
Imagine how good it will feel when you wake up alert and powerful... no longer a slave to Big Food and Big Fitness but YOUR OWN MAN: a Warrior in mind, body, and spirit.
How much would all that be worth to you?
The Brutal Cost Of Doing Nothing
Before we talk about price, quick question:
What happens if you do nothing about your physical condition?
What happens if you keep adding a pound or two to the scale every year from here on out?
If you're like most men, that puts you on a COLLISION COURSE with diabetes or heart disease.
And if you think preventive fitness programs are expensive... you should see the average price tag for TREATMENT.
"Care for a person with diabetes now costs an average of $16,752 per year"

"[Heart disease] costs for just one person is $121,200 over 20 years"

If BODY OF A WARRIOR can wipe that from your future... how much would that be worth to you?
If this program can keep you alive long enough to hold your grand-daughter or GREAT-grand-daughter in your arms...
How Do You Put A Price On That?
When it comes to fitness programs, you can pay as much or as little as you want:
You can find everything from free fitness apps to $10,000 weight-loss camps, and everything in-between.
With BODY OF A WARRIOR, we've found that $500 is the sweet-spot:
Accessible to anyone serious about taking charge of their fitness while still ensuring enough skin in the game to keep out the tire-kickers and no-commits.
One more thing:
Your investment's backed by a killer two-part guarantee:
Guarantee #1:
Our 30-Day "Love It Or It's Free" Guarantee
If you don't like the BODY OF A WARRIOR challenge for ANY reason...
...just shoot us an email within your first 30 days of the challenge and we'll issue you a prompt, no-fuss refund.
It gets better.
Guarantee #2:
Our "Get Lean Or Get DOUBLE Your Money Back" Guarantee
If you maintain at least 80% adherence to the program (average weekly score of 40 out of 50 possible points) and aren't thrilled with the results...
...just let us know by the end of the challenge and we'll give you DOUBLE your money back.
Keep in mind, this isn't a digital book or course: we have significant costs in the form of staff, slack hosting fees, prizes, and more, so there's real skin in the game with this guarantee for us.
That's how confident I am in this program.
Try Before You Join
In the past, you had to become a member of 50 BOLD (our paid community) to participate in BODY OF A WARRIOR.
Now, rather than ask you to become a member sight-unseen, we're giving you FREE access to the community for the duration of the challenge.
That way you can decide if you want to become an ongoing member AFTER we've delivered the goods and proven our value.
Enrollment Closes Soon
BODY OF A WARRIOR kicks off in just a few hours...
And we're closing enrollment Friday June 4th at midnight so we have time to onboard our new Warriors before the kickoff.
So if you're ready slay your fitness demons...
If you're ready for REAL change...
If you're ready to become the Warrior you were BORN to be, with a band of brothers at your side...
Click below to join now: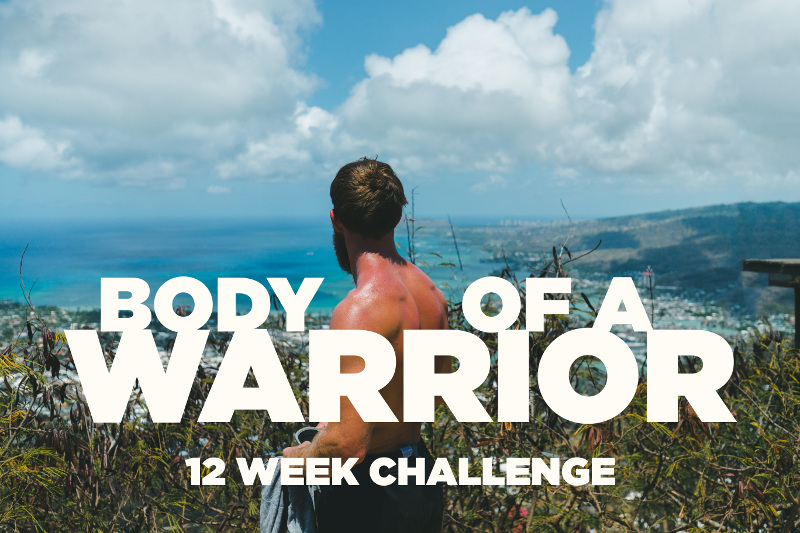 OR
Enrollment closes June 4th at midnight. Join now to save your spot.
Check Out These Warrior Results: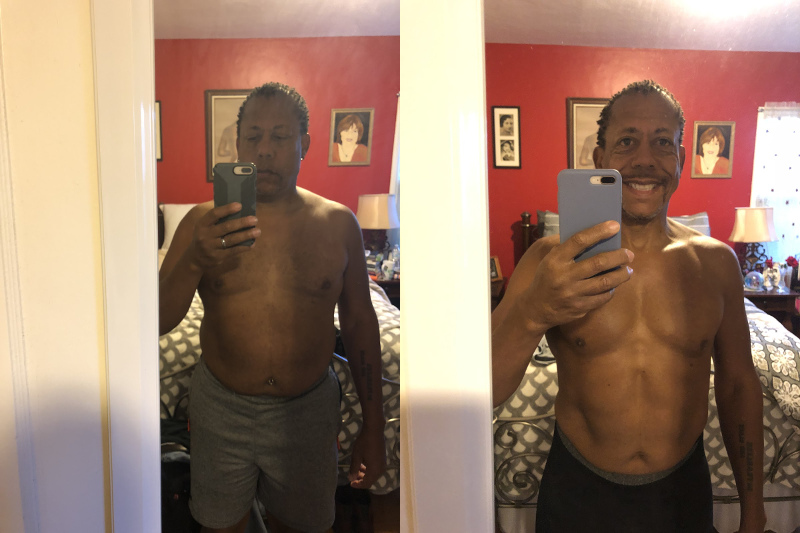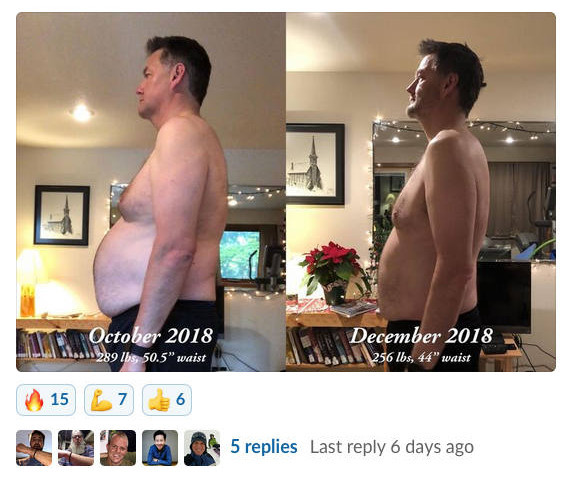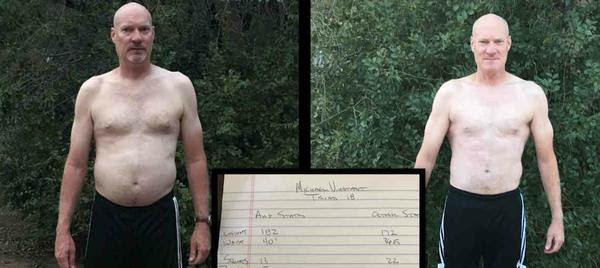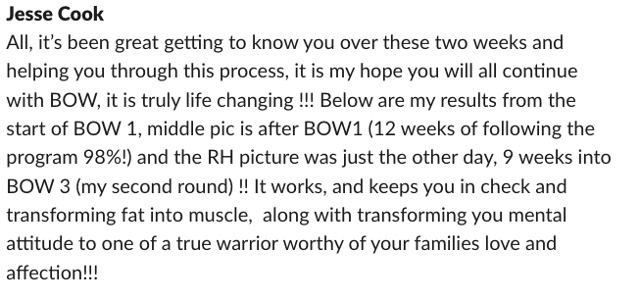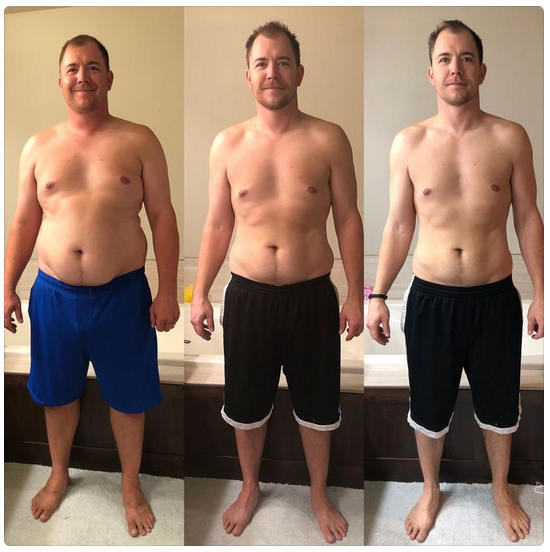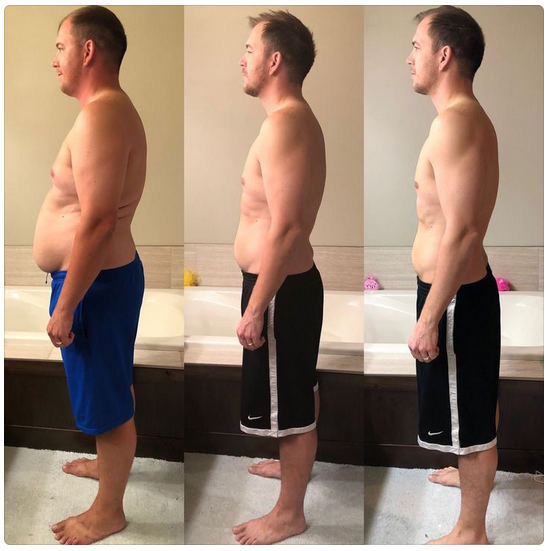 "I like where this is going!"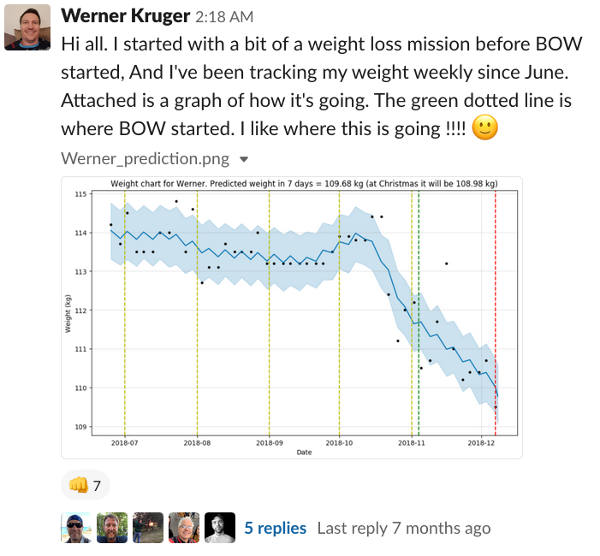 "Today I reached the 25 lbs goal"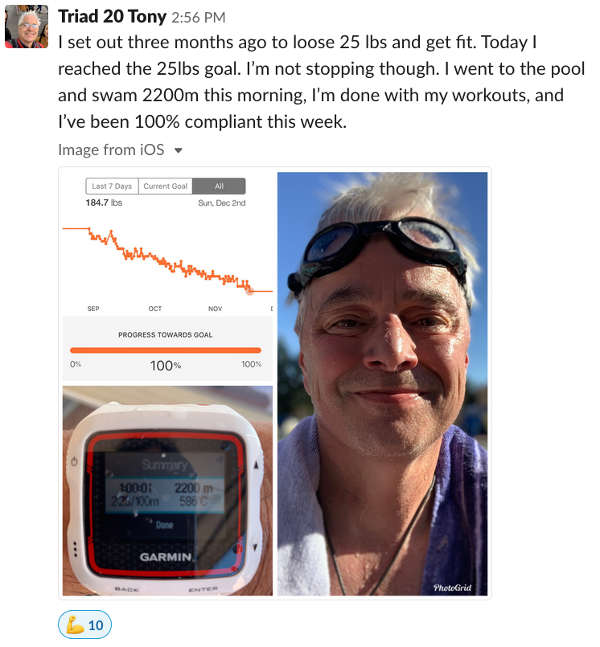 "She said 'You look exceptional for 50'"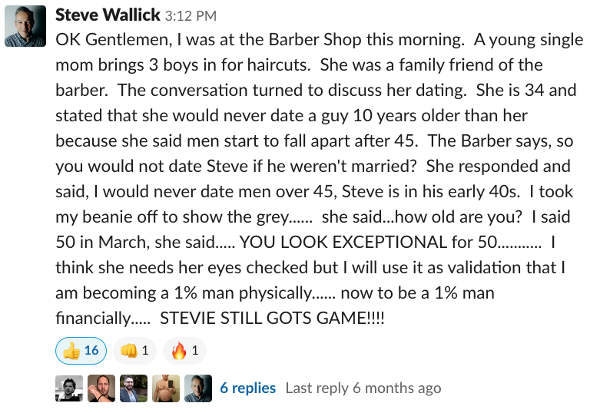 "Finally brought my cholesterol numbers under 100"

"Ran out of holes in my favorite belt!"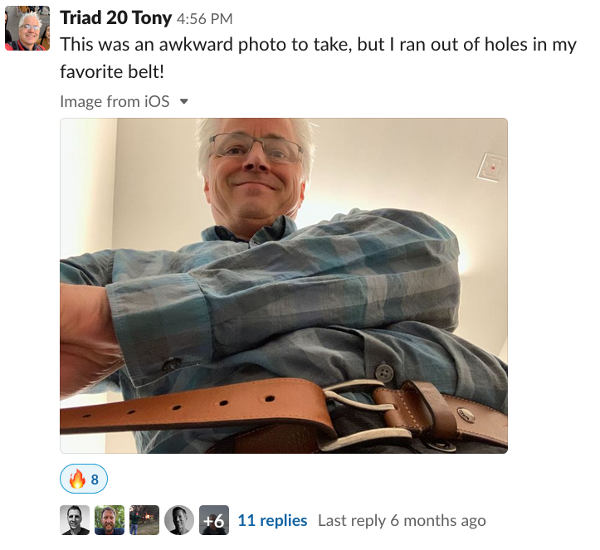 "In the best shape of my life"
"Broke the 40 pound mark"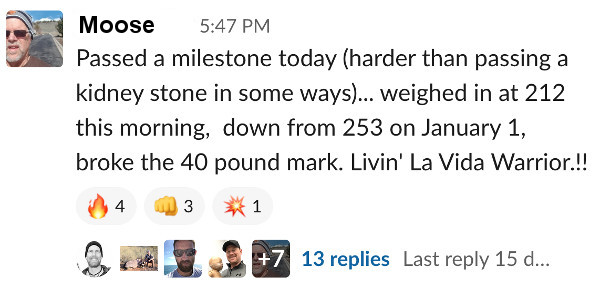 "First time I've been below 200 lbs since 1998"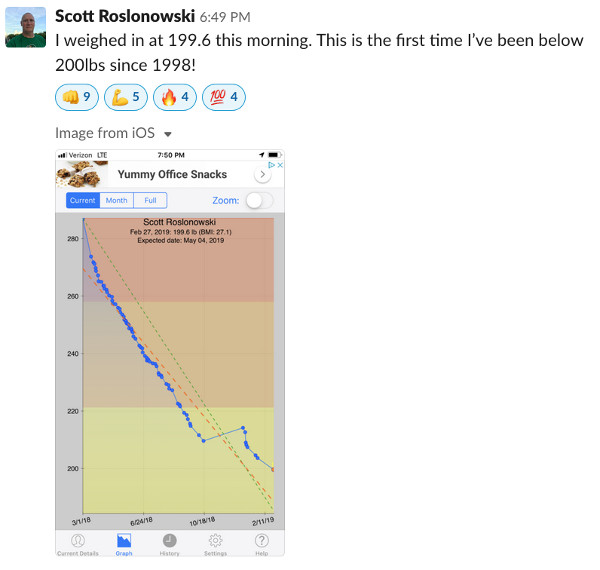 "18 lbs in three weeks"

Warrior Matt Arthur's Transformation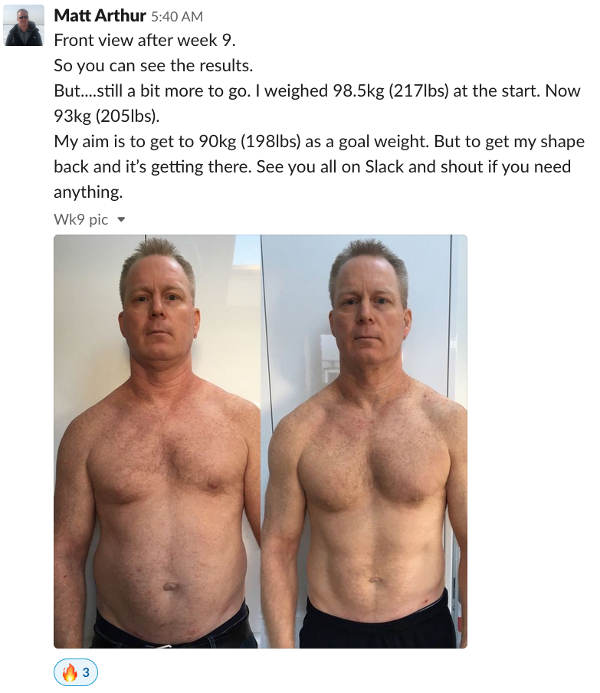 "Lost about 40 pounds over the last two rounds"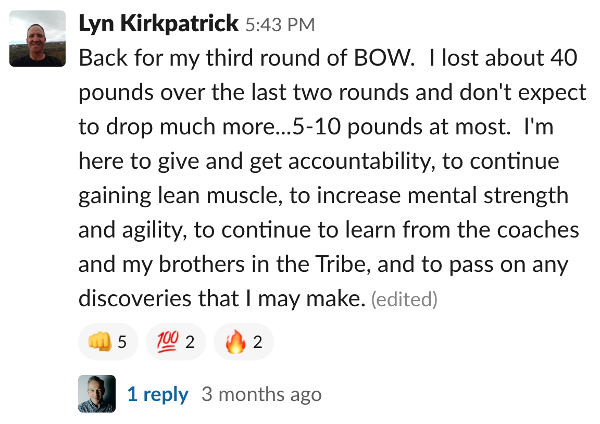 Warrior Mark E's Transformation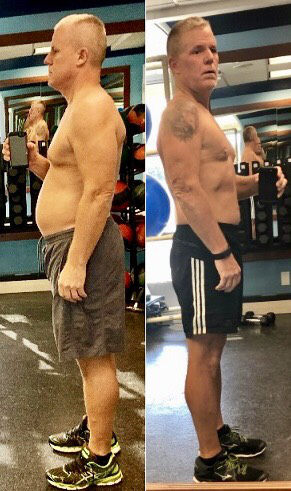 "It works... Down 31 pounds"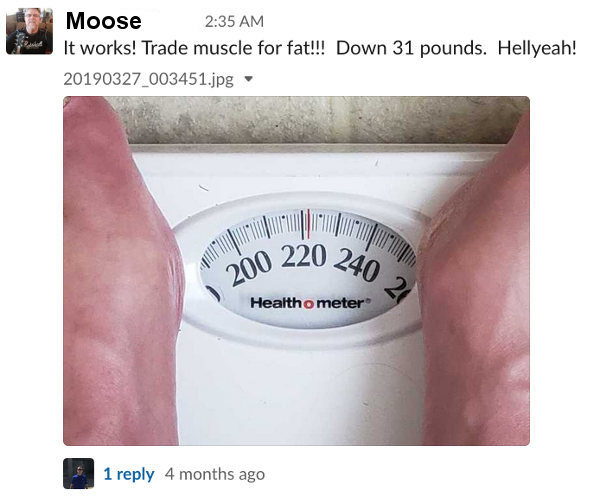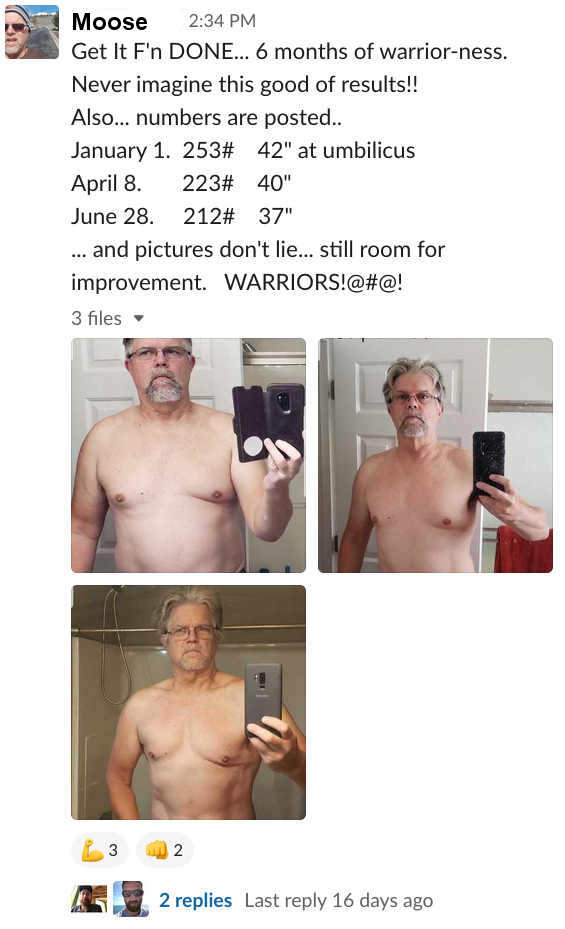 Warrior Kevin O's Transformation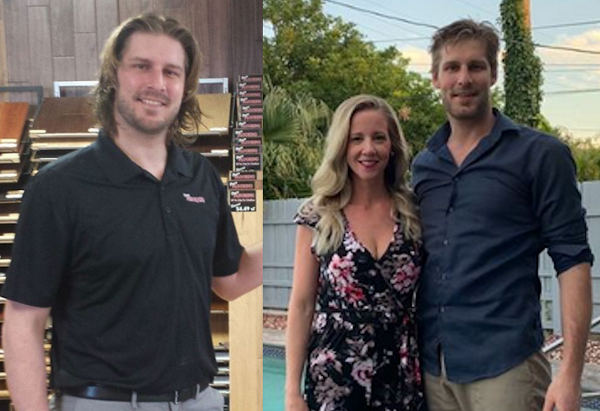 "I feel like a spring chicken"

Warrior Jim B's Transformation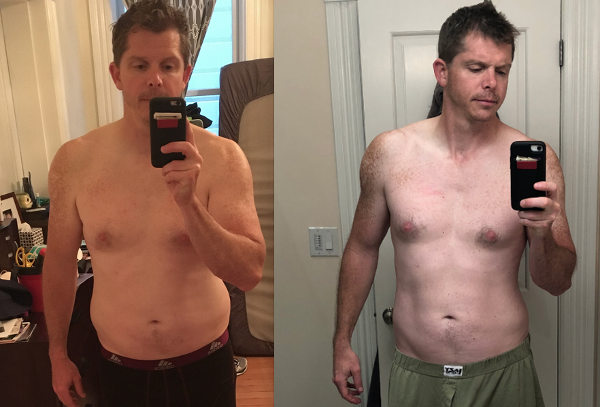 "Don't buy new clothes until the last day of BOW"

"Feeling fantastic"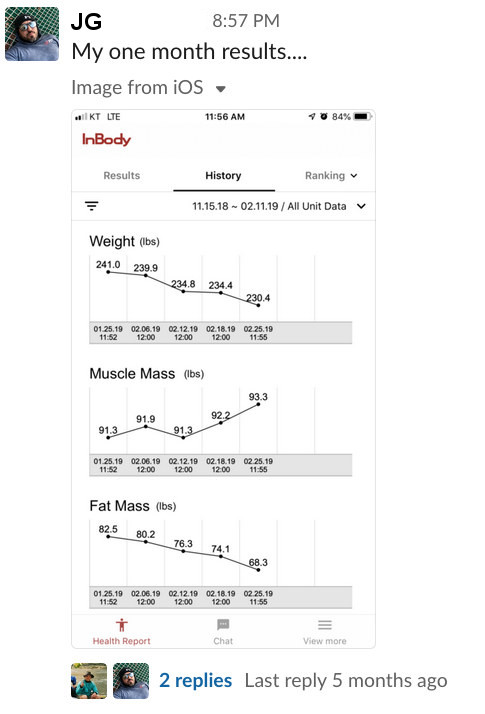 Warrior Cuan H's Transformation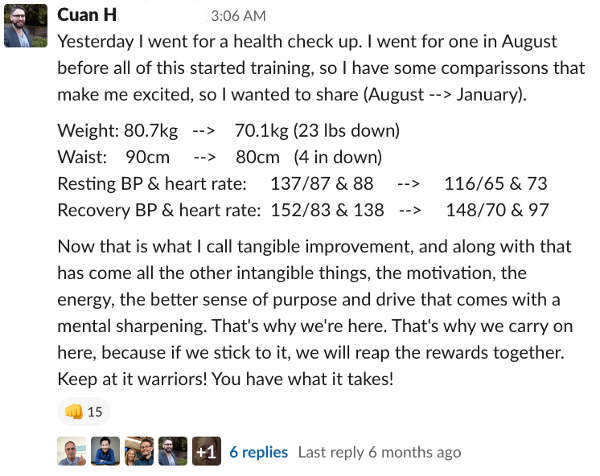 "Lost over 30 lbs"

"Today's weight under 180"

"Had to get one of my favorite shirts taken in a few inches"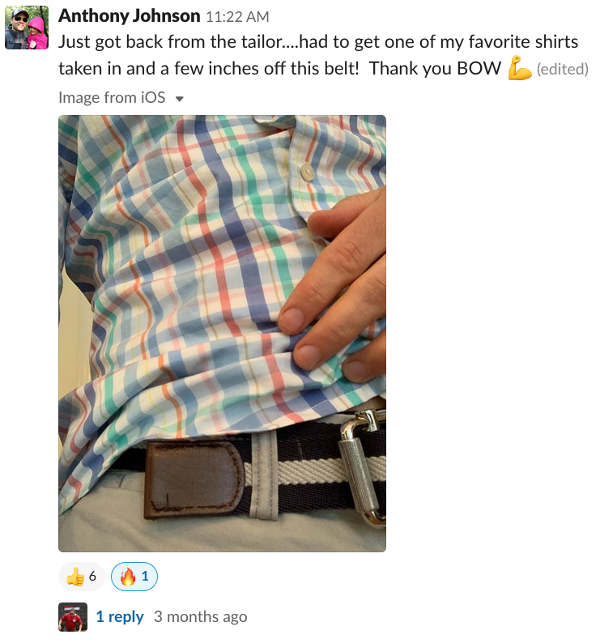 Warrior Jeremy Slayden's Transformation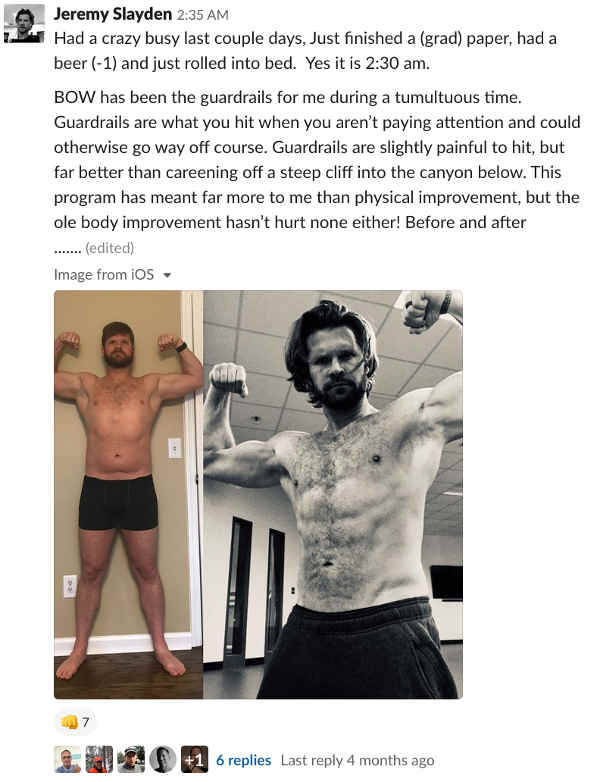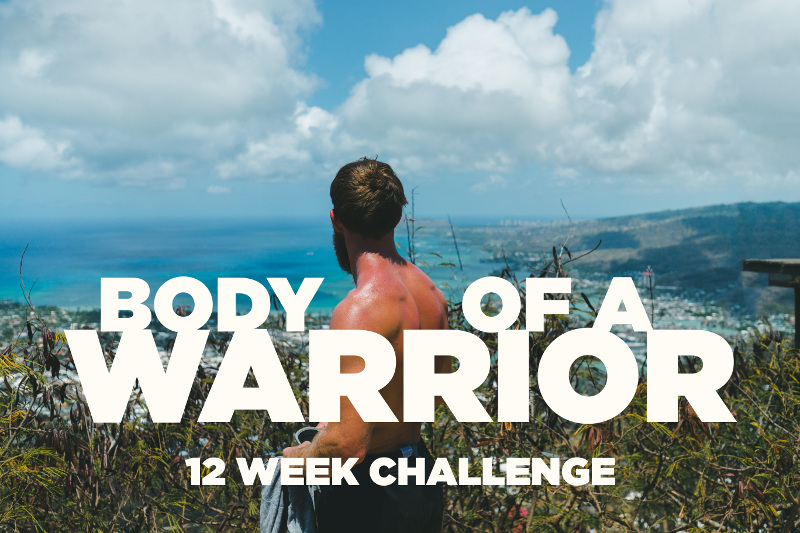 OR
Enrollment closes November 10th at midnight. Join now to save your spot.
Questions?
We've got answers:
Q: What happens after the 12 weeks?
A: At the end of the challenge, you can either continue the program on your own, or opt to join our paid community (50 BOLD) and continue your fitness journey with us (the most popular options).
Q: I'm in lousy shape. Will this still work for me?
A: Yes. Warriors come in all shapes, sizes, and fitness levels. We've got a 165 lb marathon runner in here, and several guys over 300 lbs. Size or fitness level is not a limiting factor. Warrior results prove it.
Q: I'm no good at sticking with fitness programs. How will this be any different?
A: Look, that's ALL of us. That's why we created Body Of A Warrior and what makes it so unique: being surrounded by a modern day tribe of warriors taps into levels of motivation no other fitness experience offers access to. Even if you've failed to get fit countless times before... TRIBE IS THE DIFFERENCE-MAKER.
Q: Will I have to travel somewhere to participate?
A: No. Body Of A Warrior is 100% virtual, conducted via your smart phone. You can participate from anywhere in the world.
Q: I have a crazy schedule. Do I have to do the workouts at set times?
A: We designed Body Of A Warrior to be extremely flexible. As long as you can carve out 20 to 30 minutes a day, five days a week for the workouts, you're golden. When and where is completely up to you.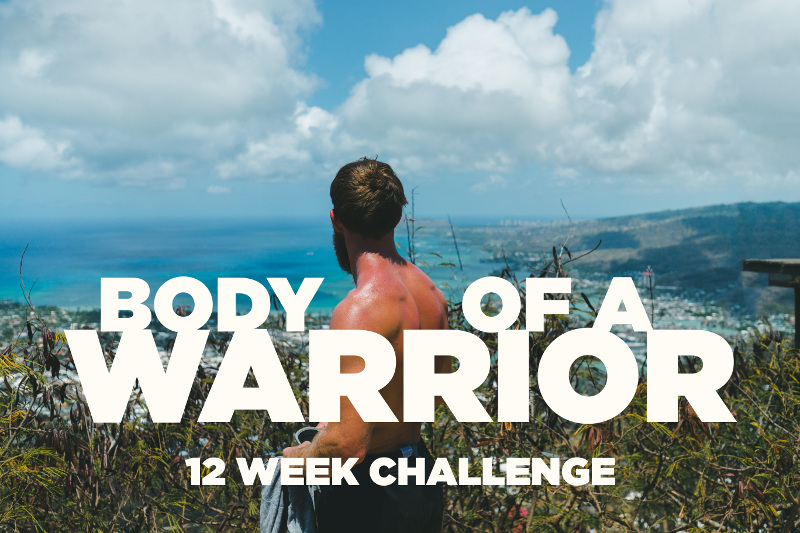 OR
Enrollment closes December 28th at midnight. Join now to save your spot.
To your freedom,

Bryan Ward, founder
Third Way Man
P.S. Here's what Warriors say...
"Don't miss this opportunity"
"Join this program. It will change your life"
"Haven't counted calories once... lost 38 pounds in 9 weeks"
"Worth every cent"
"The best program out there for guys"
"I could not be happier with this experience"